Inclusion and diversity
Delivering our purpose with more impact
City & Guilds is committed to improving inclusion and diversity within the way we work and how we deliver our purpose, which is to help people and organisations develop the skills they need for growth.
We are actively pursuing, implementing, and reviewing working practices that enable a diverse and inclusive business strategy and working environment that is truly representative and supportive of our colleagues, customers, and communities.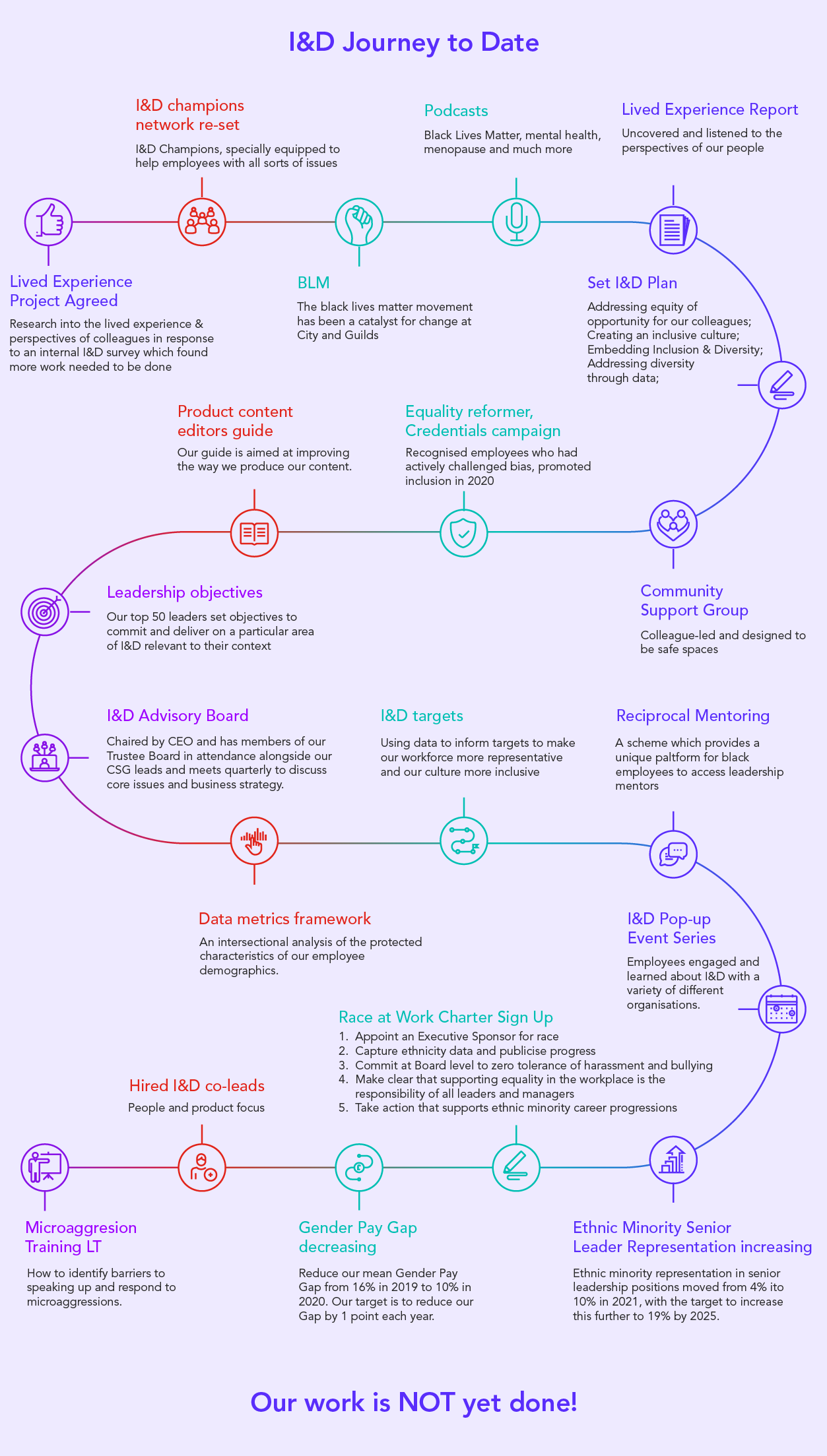 Our Social Impact
In 2022 we've published our first ever Foundation Impact Report which maintains our ambition to deliver, measure and evaluate our social impact. We are delighted to share some of the key headlines from the report.

Our work has meant that:

552 bursaries have been awarded, demonstrating impact via individual well-being and employment and significant social value, at five times the level of investment.
£1.8m of social value has been created by bursaries over three years through the economic benefits of training and employment, avoiding public spending, and increasing well-being gains for those involved. This equates to £4.94 of social value for every £1 invested in the programme.
428 prisoners and ex-offenders have been supported into work, with many more in the pipeline, thanks to the Future Skills Commission for Prisons.
181 action-orientated pledges were made by organisations following Inclusion & Diversity events, with 74% of those who made pledges reporting positive change.
100% of attendees of the Neurodiversity Train the Trainer event reported increased confidence and understanding of neurodiversity.
Recipients of the Princess Royal Training Awards (PRTA) have increased learning & development investment, improved their ability to demonstrate the value of skills and become more abreast of the latest thinking and initiatives.

Read the 2022 Foundation Impact Report here.
Bursaries: funding for training
Supporting people who need it, to get the skills society needs.

Read more about the programme here.